The TOP Motorcycle Bar End Mirrors for Sportbikes and Naked Bikes
Feb 1, 2019
Motorcycle Bar End Mirror Buyers Guide
Chances are, your new bike came with a rather odd looking set of factory mirrors. It seems that manufacturers spend so much time and effort on the styling of the fairings and the paint schemes, just to slap a set of boring plastic vibrating mirrors on the motorcycle.
Luckily there are companies like us that scour the globe for the hottest new motorcycle parts and accessories. Take a look at some of the best bar end mirrors for sportbikes, modern classics, and naked bikes.
"Stock mirrors are like stock rear license plate supports. Its like they were designed to purposely detract from the clean sleek looks of your bike."
Mount Type: Bar End Mirror
The most popular bar end mounting mirror for retro and classic look is the Reverse Retro mirror by Rizoma. Available in a satin black or brushed aluminum finish, the Reverse Retro is a timeless style that fits into many genres other than cafe racers and modern classics. With the ability to be mounted and adjusted above or below the handlebars, the Reverse Retro mirror is a versatile mirror. Although the mirror may be called "retro", the simple styling and bar end mount option makes this mirror a popular choice on naked bikes such as the Ducati Monster, Aprilia Tuono, and even the BMW S1000R. For a simple and elegant bar end mirror made from the worlds leader in high end mirrors, you cant beat the Reverse Retro mirror by Rizoma (Part # BS070B)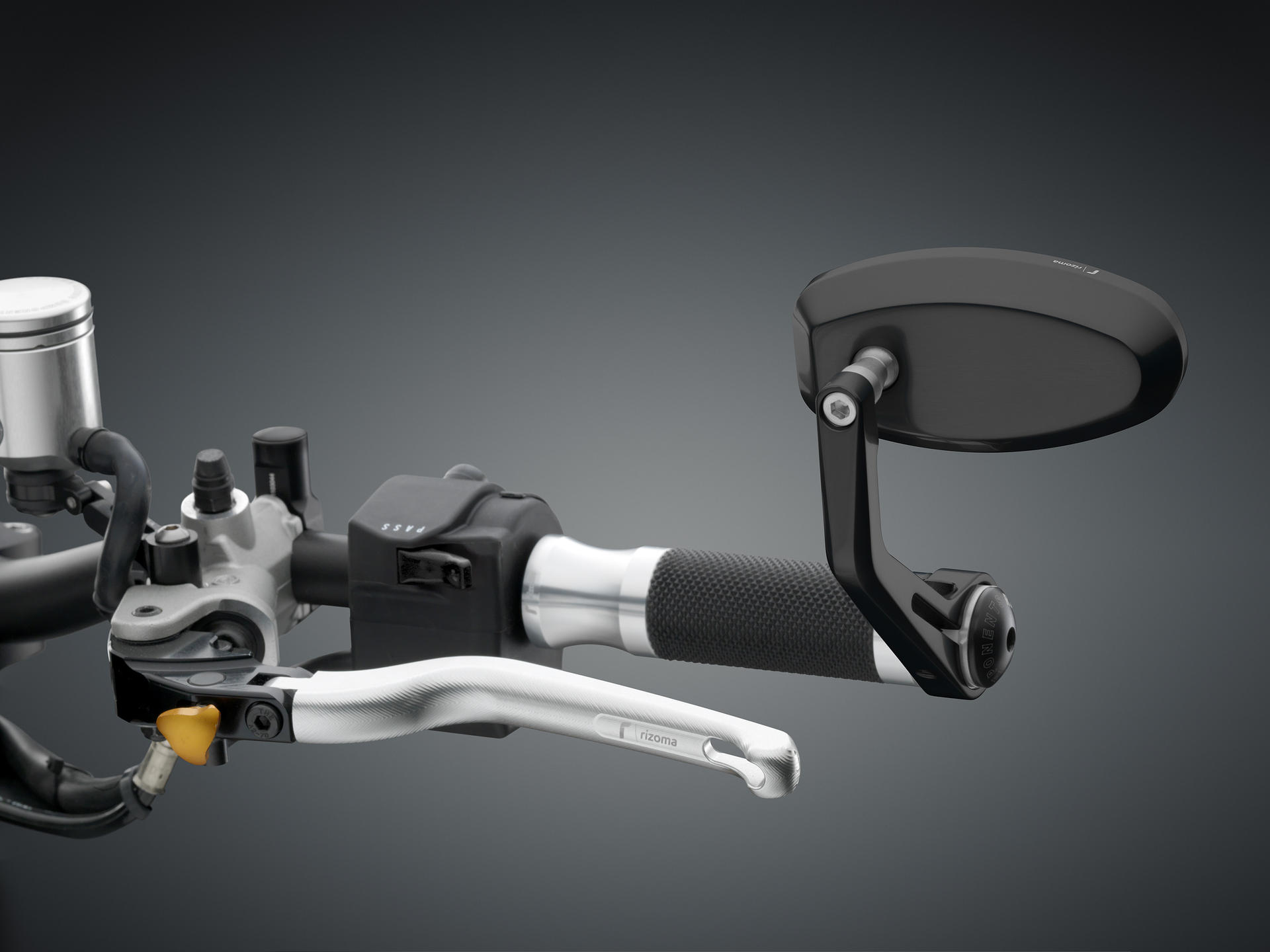 Check out this Install Video showing how the Rizoma Reverse Retro mirrors mount onto the handlebars of a BMW R nineT...
Mount Type: Bar End Mirror
New into the market for 2019, the M.View Blade bar end mirror offers a host of unique features that make this mirror the first of its kind in the motorcycle industry.
The special feature of this motorcycle mirror is the patented metallic mirror surface. The Aluminum itself is the mirror surface! No glued on glass mirror to break. The mirror body is polished to a perfect mirrored finish. You cant even tell its not glass! This design allows for a solid and sturdy mirror that is thinner than any mirror on the market.
A weightless design without edge and frame is possible and the mirror body itself becomes very thin and light. Broken glass or fallen out glass are simply not possible with this design.
The mirror is suitable for the right and left side use. It is mounted directly on any standard 7/8th (or 1") clipon or handle bar, or any barend that is designed to mount a standard bar end mirror. This bar end mirror is compact and uniquely styled. It can be mounted above or below the handlebars.
The mirror body, mirror arm and the clamping for the handlebar end are milled on CNC machines from solid aluminum and anodized to a high quality gloss black finish.
Dimensions
Width of mirror body: 100 mm
Height of mirror body: 60 mm
Thickness of the mirror body without ball head: 4 mm
Length of the stem: 61 mm
Inner diameter of the clamp: for 22 mm or 1 inch handle bar
Clamping width: 8 mm
Shown below mounted to the Yamaha MT-10 - photos courtesy of www.triumphbikes.de
Note: Motogadget offers bar ends designed specifically for mounting these mirrors. Shown HERE
Mount Type: Bar End Mirror
The CRG Arrow Bar End Mirror is the ideal application for modern, performance sportbikes and naked sportbikes. Aerodynamic styling in billet aluminum construction gives a superior, unobstructed view of the road behind. In keeping with the exceptional quality of all CRG products, the Arrow Bar End Mirror is an eloquent and minimalist design. Will fit any handle bar with sufficient clearance beyond the grip or can be mounted with a specially designed bar end.
The Arrow Mirror can be positioned for optimal viewing without concern of movement during high speed runs or excursions over rough roads.
Unique multi-position mounting
Aerodynamic design
6061-T6 aluminum CNC machined billet construction
Automotive quality convex mirror glass
Anodized aluminum
Stainless steel hardware
Made in the U.S.A.
CRG Part # AO-100
Motovation offers our own brand of bar end weights that are able to mount bar end mirrors (Part # SSU001)
CRG offers their own brand of bar end mirror adapters for a minimalist look (Part # MVLSM02)
Mount Type: Bar End Mirror
The Spy R mirror from Rizoma expresses Rizoma's spirit of making the concept of a bar end mirror ever more extreme. With its jewel-like design, its prestigious aesthetics are due to its sophisticated multi-axis machining from billet and exclusive surface finishing, the unmistakable signature of Rizoma. Uncompromising design, the use of a special no-glare concave mirror increases the view in combination with an adjustment system which gives outstanding versatility. Being essential and pure, it is fully adjustable on the vertical and horizontal axis through a ball adjustment system. The mirror itself incorporates a Rizoma bar end to keep installation simple and factory looking.
These Rizoma bar end mirrors offer multiple sizes of mirror diameter to suit your individual needs.
Convex and Antiglare Glass
Machined from billet aluminum
3D machining for perfect edges
For more bar end mirror options, visit MotovationUSA.com or contact our sales team to help get you everything your bike needs.