BMW S1000RR Full System Exhaust
Jan 12, 2019
What is the best full system exhaust for the BMW S1000RR 2015+?
WITH THE 2015 MODEL YEAR BEING A CHANGE FOR THE BMW S1000RR, THE NEW BIKE GOT A NEW EXHAUST.
A new cylinder head, lighter valves, shorter air intakes, a larger airbox and a full 'E-gas' ride-by-wire system adds 6bhp, bringing power up to 199bhp and a wider spread of torque.
With this update in power and engine config, the exhaust is brand new as well. Customers looking for the BEST full system exhaust option....look no further than Italian exhaust manufacturer ARROW.
COMPETITION 'EVO' FULL SYSTEM EXHAUST BY ARROW
These competition full exhaust systems by Arrow are the perfect way to shave weight and increase overall performance. Arrow has been known for their quality products and for amazing performance gains.
Stainless Steel or Titanium headers, Stainless Steel link pipe, with Works Titanium silencer.
Includes an Arrow dB killer

EXTRAS:
By far the most advanced ECU module on the market, is the Rapid Bike Auto Tuner. Plug n Play with no "maps" needed. Your bike will be riding around creating its own dynamic tuning while you ride. Elevation, track temp, air density, even future mods....the Rapid Bike Auto Tuner is ready to adapt to anything your bike comes across. The perfect tune, all the time! Just plug it in, and RIDE!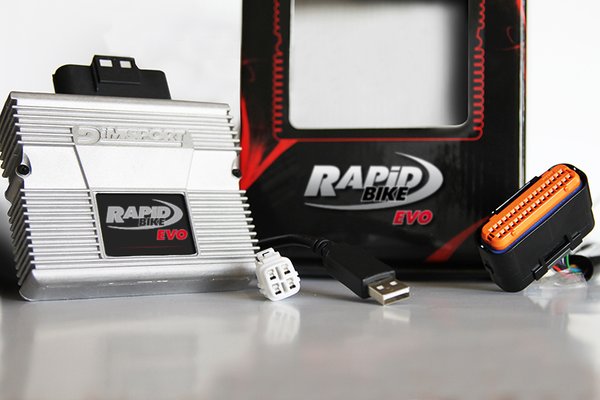 The Sprint Filter is the best performance air filter on the market. Used in the highest levels of racing, the Sprint Filter offers high flow air intake with the ease of oil-less cleaning. See the Sprint Filter HERE.