Aprilia RSV4 Chain Adjusters by Bonamici
Feb 1, 2023
The best way to keep your chain tight, but not too tight. Bonamici Racing chain adjusters!

Motovation is well known for bringing you the best motorcycle accessories from factories around the world. We are basically your personal parts broker for internationally produced motorcycle parts. If we offer it, then it has been tested by our staff and supported riders, to ensure we represent the best motorcycle parts for your Aprilia RSV4 1100.

Who is Bonamici Racing?



Bonamici parts are made in Italy, with a focus of racing and track oriented products. Many race teams in World Superbike use Bonamici racing parts on their bikes. This racing heritage, translates to street riding, by offering parts that are durable and function very well.

Bonamici Racing chain adjusters are made in Italy and are specifically designed to give you optimum chain tightness and alignment for racing, track days, or street riding.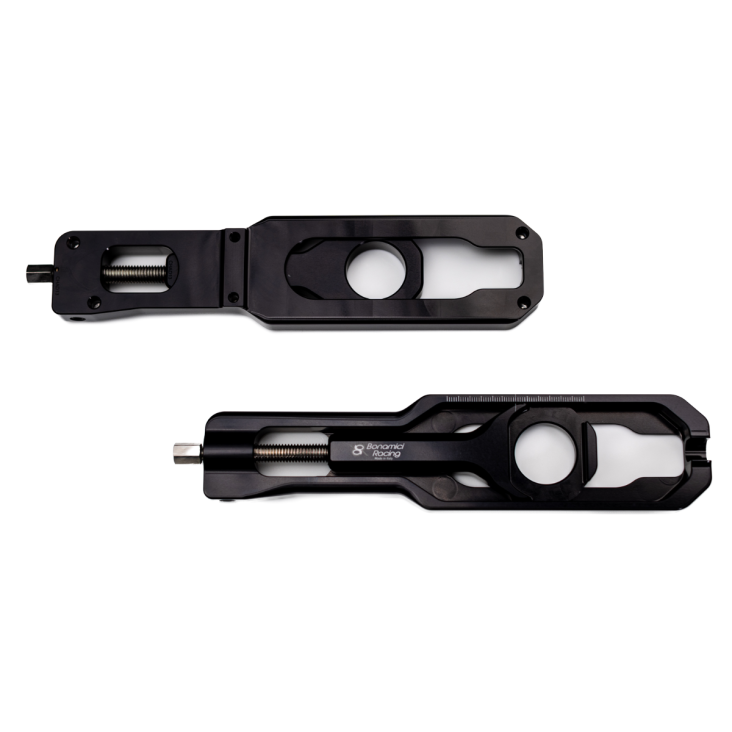 Strong and Durable



Made by high-strength aluminum alloy, machined from solid with CNC technology and finished with black anodizing, the engine cover kit perfectly protects the crucial engine components during drops and slides. These are a popular alternative to traditional frame sliders.

Bonamici uses the latest laser scanning technology and CNC Machines to construct perfect fitting case savers that fit directly over your fragile stock engine cases. Bonamici case covers feature a strong anodized finish making them attractive and resistant to chemical wear.
Fitment

Sold as a 2 piece kit. Not modification required. Easily replaces the stock chain adjusting components. These chain adjusters will allow for the install of most of the rear axle sliders we have tested.

CLICK HERE - for pricing, photos, fitment, and ordering.
MotovationUSA.com is made up of REAL RIDERS. We ride, just like you. We research mods and upgrades, just like you. We care about the growth and advancement of the sport of riding.....just like you. Support a store that supports your sport.
Shop at MotovationUSA.com - A portion of each dollar you spend, goes to support upcoming riders and racers, as well as rider safety training. We use your support, to help ensure this industry continues to grow, and offers the same level of motorcycle riding opportunities, for generations to come.