Used Motorcycle Buyers Guide
Feb 5, 2019
New motorcycles are great, but a used bike can offer the same level of enjoyment, with less of a hit on the wallet....assuming you don't get burned!
These simple tips will help you negotiate the waters of buying a used motorcycle.
A great bike at a great price! Who doesn't want that? In most cases finding a used bike is easy. Check your local trader, craiglist, or just ask around. Chances are if you are a rider, your friends are too. Surely someone has that gem just collecting dust in their garage.
The trouble comes when you find the bike you want, and it's time to decide to take it home or run away. Are you snatching up your dream ride, or someone else's nightmare? The first step seems like common sense, but it can be overlooked when you are on site and super excited about the possibility of your new bike!
"Your dream bike is out there waiting for you!"
1. Take a good slow look all over the motorcycle. Bikes are small enough in most cases that you can easily get a good view of all angles. This includes looking for dents, scratches, leaking fluids, etc. An overall view of the bike.
2. Check for crashed or dropped bikes that the owner is trying to hide. Just because a bike has been repaired, doesnt mean the bike hasn't previously been damaged. My favorite place to check is the "feeler" knobs on the underside of the footpegs. Unless you are out dragging pegs everywhere, the bottoms of those shouldn't be scuffed or scratched up. Many times people repair bikes but dont pay attention to the pegs that got damaged in a drop. Roughed up peg feelers on both sides of the bike could simply mean the owner actually rides! Beware of bike that only has 1 peg underside damaged, that could mean it's been down and repaired.
3. Take notice of the storage and ownership conditions of the seller. Not always a perfect indicator, but a dirty garage with water leaking through the roof may indicate the seller wasn't always able to keep up with proper maintenance. I specifically remember looking at an Aprilia Tuono, and the seller just would not stop telling me how well the bike will wheelie. When I combined the overall look of the bike, the outdoor storage, and the seller claiming to be a "wheelie champion", I was able to determine the bike had lived a rough life previously.
4. Pay attention to things like registrations and expired inspections (in some states). Expired documents can be a sign of neglect or that the bike has been sitting for long periods of time. A sitting bike can affect fuel tanks, fuel systems, batteries, and even tires.
5. Check the title status. This can not only prove ownership, but in some cases can show how long the current owner has owned the bike. A short ownership history can mean that the bike is too scary for the owner, or that the bike is showing signs of trouble, and the owner is looking to dump the problem on someone else.
6. Start the bike! Tip: be sure to carefully hold your hand near or on the bikes headers. If they are warm, you will know the owner has already "warmed up" the bike before you arrived. This could be nothing, some of us just like to hear our bikes run! However, be aware that you are not experiencing a true COLD start on the bike. You dont want to find out later that the bike has difficulty starting when cold.
7. If you can take off the seat and view the underside, take a look! Typically the battery and all power leads are under there. A nice clean stock wiring setup is great! Sometimes you can find out that the previous owner wired up some lights, a gps, a toaster oven, etc. Some wiring jobs are great (you will marvel at them when you see them). Most wiring jobs are just future nightmares waiting to show their fangs while you are on a long right, and typically far from home.
If you made it this far, and haven't walked away, then its time to get serious!
Everyone want's to test ride a bike, but not all sellers are ok with this. Honestly, this is a situation you will have to navigate on a case by case basis. I have seen everything from a seller that will toss you the keys and let you be gone for an hour, to the sellers that wont let you leave the driveway without cash in hand. Be prepared for both scenarios and do whatever you feel comfortable with. There is certainly a risk with riding a bike you do not own and do not have history with. ALWAYS do a full pre-ride inspection before riding ANY bike. You can not assume that a bike is in proper running condition with functioning brakes just based on the clean presentation of the bike.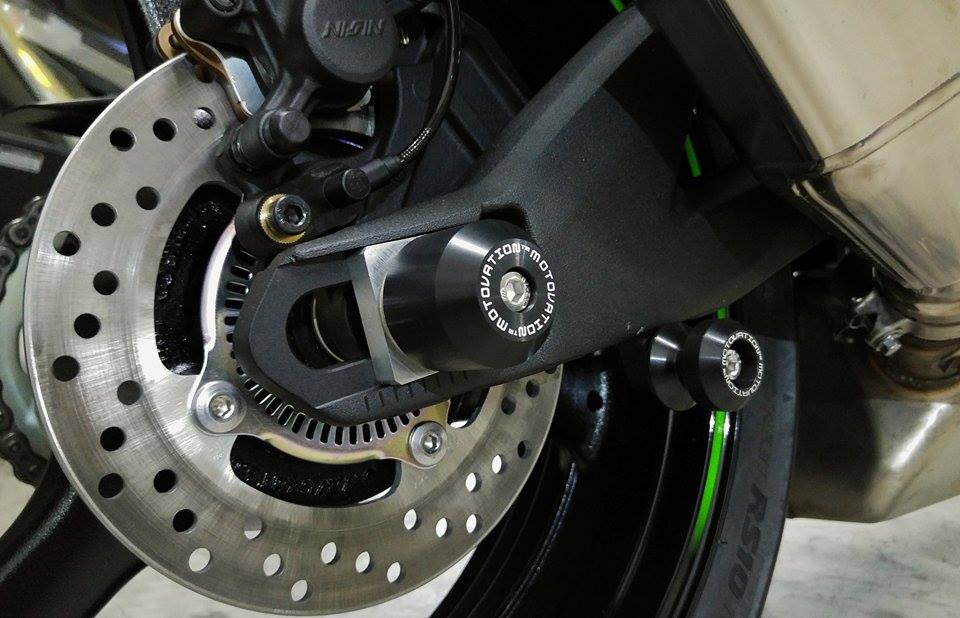 The reality is that a large percentage of motorcycle owners are just that...owners. This means there are huge numbers of garage queen motorcycle out there that just need someone to actually ride it! Keep searching. Your dream bike is out there waiting for you!
Buying a bike should be a fun and memorable experience. Lets just hope the experience is memorable for the right reasons!