Rapid Bike EVO Auto Tuner
Dec 19, 2017
With the change in emission restrictions, most bikes come off the assembly line ready for strict (California) emissions. This is ok for many applications, but for those looking to get the most performance out of your motorcycle (at the track of course) this takes some proper tuning!
Enter the Rapid Bike EVO Auto Tuning Fuel Management system.
1. Install the unit using all Plug N Play connectors (no wire cutting).
2. Ride the bike.
3. Seriously, thats all you have to do!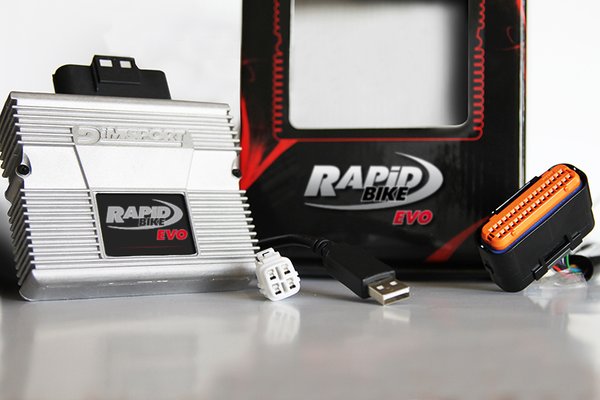 Forget worrying about fuel maps, dynos, and computers. JUST RIDE! The perfect air/fuel settings for your bike and elevation are generated WHILE YOU RIDE!
The Rapid Bike EVO kit is the perfect tuning solution when you add an exhaust and/or air filter to your motorcycle. This allows you to easily get the best performance and reliability out of your bike.
RAPID BIKE EVO module manages up to 8 injectors and modulates the signal up to two O2 sensors (up to 2 lambdas). The purpose of the O2 sensor (lambda) modulation is to prevent the stock ECU from recognizing the adjustment applied by the RapidBike module to the injection map without any further attempts to re-set the stock parameters matching the criteria fixed by the restrictive exhaust gas emission laws. 
The Rapid Bike Evo module's most important benefit is the Auto-adaptive feature. This offers the ability to automatically correct the injection map by reading the signal of the stock O2 sensor (lambda) and making the adjustments automatically while riding the bike.
When riding the motorcycle, the self-adaptive feature determines the automatic self-correction of the air/fuel ratio maps: this active management is added up to the pre-set parameters. The adjustments set by RapidBike EVO improve the engine efficiency in order to reach the best performance.
Did we mention it's completely PLUG-N-PLAY?
No cutting of wires, no soldering, no hassle. Plug the Rapid Bike connectors directly into the factory connectors. Thats it.
Need to take the bike to the dealer for warranty service? Simply remove the Rapid Bike piggy back unit, and you are back to stock, with no permanent ECU changes or manipulation to show.
Adding that SC-Project exhaust to your bike? Don't forget the Rapid Bike unit! A tuned bike is a happy bike.