Motovation RFSD03 Rear Axle Slider Installation Instructions
***PLEASE NOTE: Motovation must insist that all protection parts and accessories are professionally installed to ensure proper fitment and maximum protection. These instructions are for reference only, and do not reference a specific bike model. Your installation procedure may vary.***
Motovation Spool Type Rear Axle Sliders
These sliders have been designed to offer unsurpassed protection to your swingarm, calipers and rotors in the unfortunate event of a lowside or tip over. Riders around the world have tested our products on the street and track with outstanding results.
Typically a Motovation axle slider kit will include: (some models may vary slightly)
(2) Axle Slider Spool Type Pucks
(1) Stainless through axle rod
(2) Axle opening spacers
INSTRUCTIONS:
Match up the puck spacers to the appropriate side of the axle opening, based on axle opening size.
Install one of the slider pucks using the appropriate spacer onto the axle slider rod.
No need to tighten the axle rod bolt fully yet, as you will tighten this up further when completing the installation. Blue Loctite is highly recommended.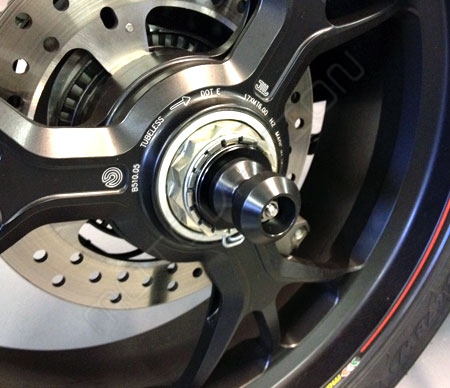 Insert the rod with the slider puck and spacer attached into the axle opening.
Make sure the slider puck spacer fits snugly into the axle. If it does not fit snugly, you may be inserting the rod into the wrong axle side. Spool style rear axle sliders have machined spacers to fit properly inside the axle openings.
Install the second slider puck and spacer on the opposite side and tighten the bolts in unison until the slider pucks are snug and will not easily rotate. DO NOT OVER TIGHTEN.
Please double check your install and feel free to CONTACT US with any questions. Motovation is not responsible for any damage during installation and recommends professional installation for all parts and accessories.
Motorcycles can be dangerous. Motovation has no control over the usage of any part and expects their customers to exercise good judgment as to the proper selection, installation, use and maintenance of any part. Motovation assumes no responsibility for damage or injury of any kind because of the misuse or improper installation or application of any part in any way by any person. MotovationUSA shall not be liable for any indirect or consequential damages whatsoever.