Triumph Speed Triple S / RS Exhaust
Aug 13, 2019
Triumph made some model updates for the 2018+ Speed Triple S / RS. These new changes brought along new exhaust options from SC-Project.
Triumph is calling the 2018 Speed Triple S and RS "the greatest Speed Triple ever made", and we certainly agree. The only thing that can make this bike any better, is to upgrade to one of the new exhaust options by SC-Project. Let's take a look at the new options.
Wanting to keep the dual high mount exhaust look?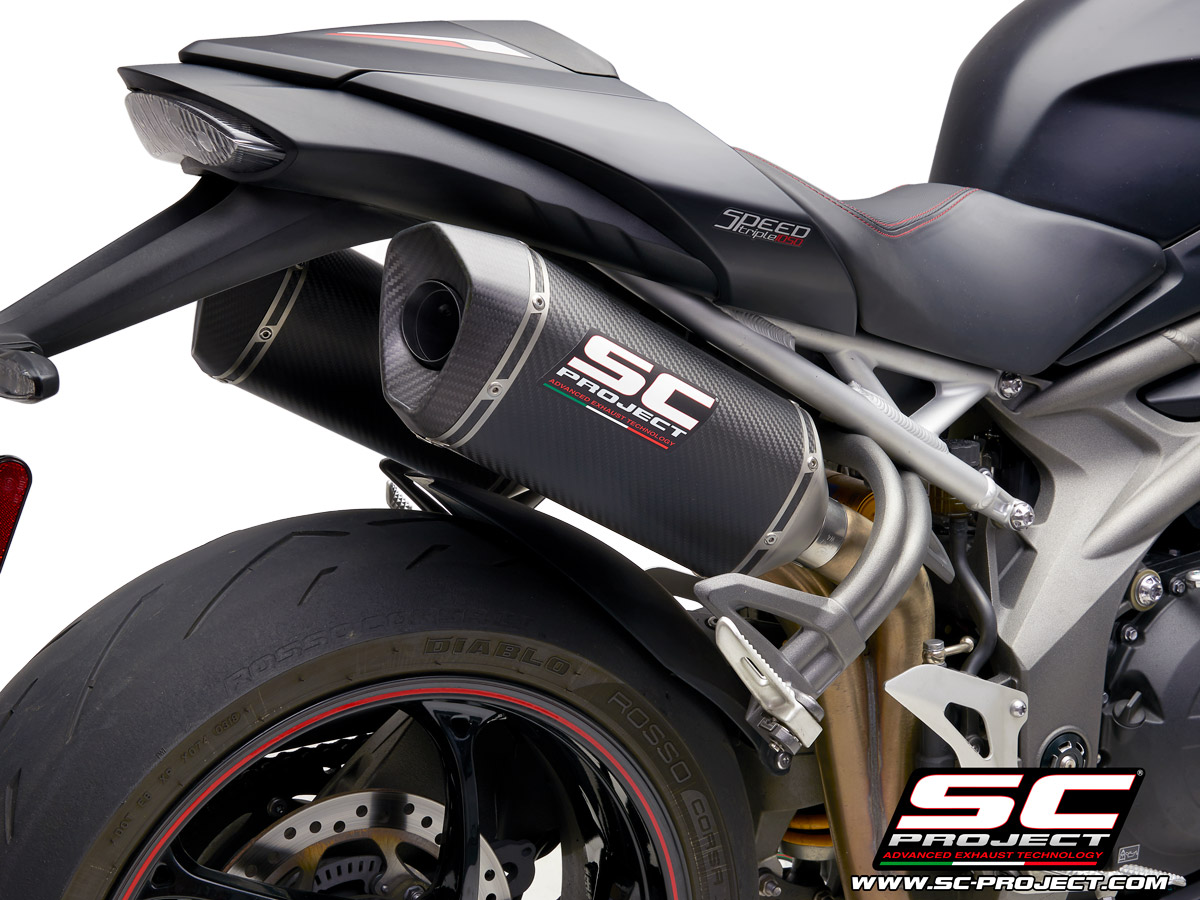 The dual SC1-M exhausts mount similar to the stock exhaust and offer you a titanium or matte carbon fiber finish.
Looking to make some noise?
The most widely recognized SC-Project exhaust is the CR-T. The CR-T was developed strictly for racing, but quickly made its way onto streebikes all over the world. The CR-T offers you the choice between a carbon fiber exhaust canister or a titanium version. Both are low mount options and offer incredible weight savings from stock. Similar concept, but if you prefer more of a conical exhaust shape, check out the S1 Exhaust by SC-Project, as well as the S1-GP.
Want to really stand out from the crowd?
The SC1-R exhaust is a uniquely shaped exhaust made from the highest quality materials available. The unique shape of the SC1-R allows for extreme lean angles. The added benefit of a removable dB killer, make this exhaust a great choice for both street and track use. The SC1-R offers you the choice of a matte carbon fiber or titanium exhaust.
SC-Project offers many exhaust options, in order to satisfy the unique taste of each individual rider. No matter which exhaust you choose, you will ride with the confidence that your exhaust has been developed using the absolute highest forms of race track testing available. SC-Project exhausts can be found on race tracks around the world. From MotoGP, to MotoAmerica, SC-Project is the choice of champions.
Shop ALL SC-Project Exhausts HERE